On a recent trip to Miami Beach, I took a great tour, the South Beach Arts and Culinary Tour in Miami, with Food Tours In Miami which I found on Viator's list of food tours in Miami.
Food Tours In Miami is a company started by Faruk Bishavec. Faruk is a Bosnian who grew up in Macedonia but who has called Miami home for a number of years. The tour I took focused on the history, art deco architecture, and food of South Beach. He also has a tour of Little Havana that I want to do next time I am in town.
David's Cafecito Cafe
We started at David's Cafecito Cafe (919 Alton Rd) which is a classic Cuban cafe in the south part of South Beach. This restaurant has moved further south in recent years because of rising rents that are driving out many small restaurants from South Beach.
The typical Cuban breakfast is a pastry and a small but potent cup of Cuban Coffee. I heard from a number of people that if you want to sleep at night, you should never drink Cuban coffee after noon.
Our guide picked out a typical breakfast pastry for us. We had one with soft cheese and mango that was delicious. The shape of the pastry hints at the filling.
Triangle: cheese and fruit
Square: just fruit
Rectangle: just cheese
Panizza Bistro
Our next stop was at Panizza Bistro (1229 Lincoln Rd) which is an Argentinean, Italian & Spanish restaurant on Lincoln Road. The area east of Alton Rd on Lincoln Road is a ritzy and expensive pedestrian shopping mall. Locals can be found at restaurants like Panizza Bistro which are west of Alton Rd and less expensive.
The specialty of Panizza Bistro is empanadas. Our guide said empanadas are Miami fast-food and can be found all over the city. They come with a great variety of flavors, most of them savory. You will quickly see why locals keep coming back for these simple but delicious pastries.
Al Basha Grill
To celebrate the diversity of South Beach, we went from Argentinian fare to Middle Eastern with a visit to Al Basha Grill (1533 Washington Ave). The owner is a Turk who comes from Algeria. We tried great chicken shawarma, hummus and baba ganoush. All the meat is halal, but better yet for me, it was delicious. Granted the humus did not match the warm hummus that I got in the Arab quarters when I was in Israel, but this place is one of those great hole-in-the-wall kinds of places where I love to eat.
Their menu his the Middle Eastern highlights like shawarma, gyros, falafels, and kabobs. They also claim they have the " best burgers and fries" in Miami. That claim I was not able to verify.
La Sandwicherie
We went from a hole in the wall place to a restaurant so skinny that it has no inside dining. La Sandwicherie (229 14th St also 34 SW 8th St) hugs the side of an alley and appears to be something like 6 feet deep.
In the middle of the afternoon, La Sandwicherie already has people lining up for its sandwiches. Faruk says that you will find them busy well into the night when people stop by after clubbing for a late-night sandwich. These are gooey messy great sandwiches.
Miami N' Ice
Our last stop was at Miami N' Ice (1214 Washington Ave) which serves ice-cream rolls. If you don't know ice-cream rolls (I didn't), think of it as part ice cream and part performance art. They start by putting cream on a very cold surface and mixing it in with your topping:
Butter Cookie Monster
Wild Monkey
Crazy for chocolate
Sweet Mango
Go nuts
Coffee love
Berry me up
They work the topping into the cream as the cold surface is freezing it. Then they spread it out, cover it for a minute and roll up the now frozen ice-cream into rolls served in a cup or a taco-like "cone". You will want to watch the performance and as long as you are there… you might as well order some ice cream.
Conclusion
There are lots of places to eat in Miami. One of the great advantages of taking a food tour in Miami like Faruk's is that you can find the out of the way gems like these five. Faruk knows more than 5 places to eat so the tour changes from day to day. There is more than just eating on the tour as we also learned about the local history and Art Deco architecture.
For more information about the non-food part of the tour check out Miami – History, Cuban Culture and Art Deco Architecture. You can also read more about where I stayed in Miami.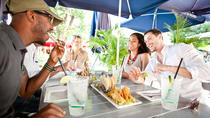 A Taste of South Beach Food Tour. Join a local on a culinary adventure!
US $55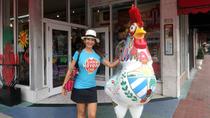 Little Havana Cultural Walking and Food Tour – delve into all the cultural highlights that is Little Havana
US $56
Faruk also has a tour of the food and culture of Little Havana that I wish had fit into my schedule. I know I would have enjoyed that neighborhood more with him than I was able to on my own.
+Chris Christensen | @chris2x | facebook
One Response to "5 Great Places to Eat (and a Great Food Tour) – Miami Beach, Florida"
Leave a Reply
Tags: article, day tour, florida, food tour, miami, miami beach, walking tour